Fashion Law and Sustainability: presentazione del libro
October 24, 2022
@
5:00 pm
–
6:30 pm
Lunedì 22 maggio 2023, ore 14.00 – 15.30, si terrà la tavola rotond,a in videoconferenza, di presentazione del libro: "Fashion law and Sustainability. Fashion Planet on sustainability" edito da Dike Giuridica.
Alla presentazione parteciperanno alcuni degli autori che affronteranno le problematiche trattate nel libro, approfondendo in particolare gli aspetti di rilevo per rendere sostenibile l'industria della moda in una prospettiva giuridica.
La tavola rotonda si terrà in video conferenza con libero accesso previa registrazione.
Il libro, fa parte della collana The Thinking Watermill Bricks e non si propone scopi di lucro. Gli eventuali proventi derivanti dalla vendita saranno utilizzati per piantare alberi.
Per partecipare scrivere a: info@thethinkingwatermill.com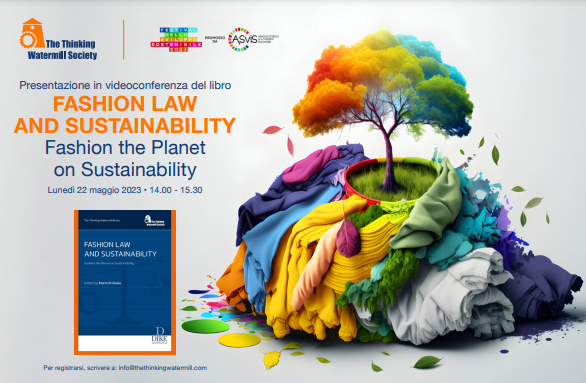 DOWNLOAD Locandina Fashion Law and Sustainability – Fashion the Planet on Sustainability
Per maggiori informazioni sul libro clicca qui