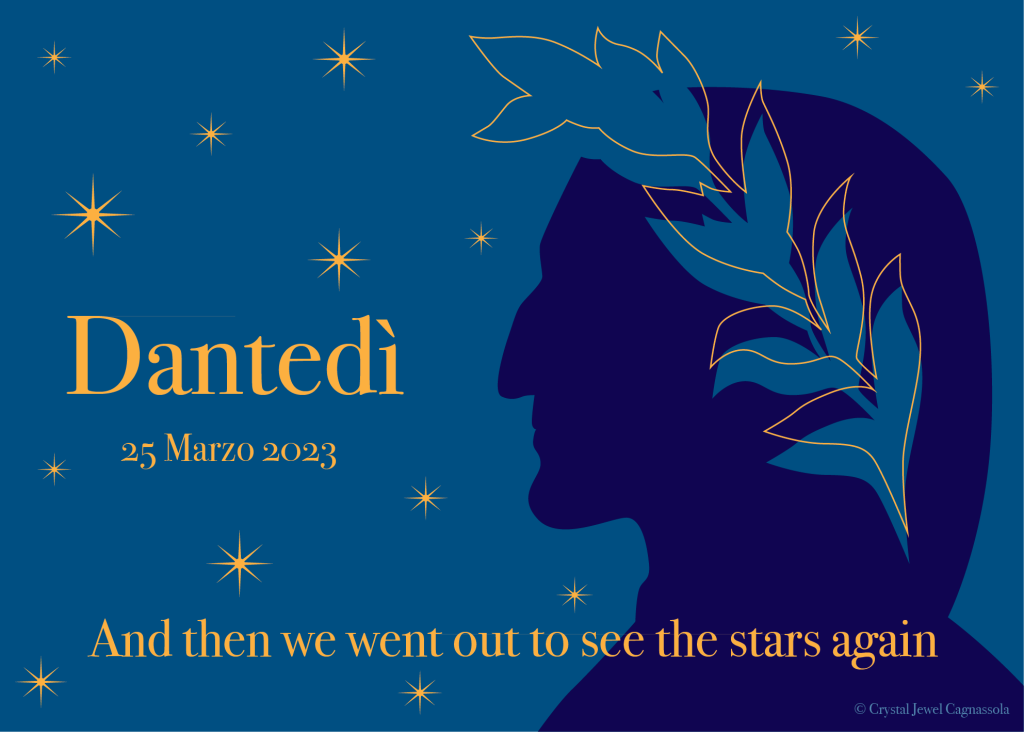 Today, the 25th of March, is Dantedì, the day dedicated to the great poet.
Today it is more than three years since the world has been hit by the covid crisis, and even new pandemics are feared.
Today it's more than one year that Ukraine has been invaded and the world is under the threat of a global war, possibly a nuclear one.
Humanity goes through a hell of darkness and fear, nobody is safe.
So we would really like to say the verse of the Poet, while he concludes his journey through hell.
"And then we went out to see the stars again".
Stars which are witnesses of atrocities, but also symbols of that sky mankind prays to or interrogates about its own being. "And then we went out to see the stars again". A verse of hope that we wish we will all be able to say soon, a verse about resurgence and the end of fear.
PODCAST
—-
Oggi 25 marzo è Dantedi, il giorno dedicato al grande poeta.
Oggi sono sono ormai più di tre anni che il mondo e' stato stravolto dalla crisi del covid e si temono ancors nuove pandemie.
Oggi è più di un anno che l'Ucraina è stata invasa e che il mondo si trova sotto la minaccia di una guerra globale e perfino nucleare.
L'umanità passa attraverso un inferno di oscurita' e paura, nessuno può dirsi al sicuro.
Allora vorremmo proprio potere dire il verso del Poeta mentre finisce il suo percorso nell'inferno
"E quindi uscimmo a riveder le stelle"
Quelle stelle testimoni di atrocità ma anche simbolo di quel cielo cui gli uomini si rivolgono quando pregano o si interrogano sul proprio essere.
"E quindi uscimmo a riveder le stelle"
Un verso di speranza che ci auguriamo presto si possa dire noi tutti, un verso di rinascita e fine della paura.