by Temba Kutondo
Did you know that Millennials are becoming the world's most powerful consumers?
Millennials (ages 21 to 35), are expected to surpass Baby Boomers in population in 2019 and hold a collective annual buying power of $24 trillion by 2020.
In this current technological revolution, personal devices are more sophisticated than ever before, the speed of information has never been faster, and the importance of creating a "digital experience" has never been greater.
That means that the demands that Millennials have for brands have also changed—and it's reshaping the way consumers consume products, experience technology and conduct marketing. According to new report.

Image via World Fair Trade Organization
This calls for transparency and authenticity during production, and brands can no longer just spew out their advertising to the masses and expect to be successful. Millennials want to be heard, and they want to feel like brands care about them.
Having a social responsibility to the society is becoming evident in day to day consumption choice of consumers. Brands that puts their social and environmental philanthropy on full display in virtually every aspect of their branding, not only lets potential customers know the kind of company they're dealing with , but also reinforces its brand values consistently across all channels effectively.
"Ethical products" go far beyond the unusual or neat packaging or having a good mission statement; it's a designation that clearly states companies must have a "positive impact on society and the environment according to the Sustainable Development Goals".
Although the pursuit of social responsibility and ethical production does not automatically translate into increased profit, it is still the responsibility of the companies to ensure they are responsible for their actions and impact on society especially when it comes to the environment.
There are 6 ethical values that brands are expected to uphold are:
1. Honesty – offer value with integrity.
2. Responsibility – be good stewards of the environment around.
3. Respect – Acknowledge basic human dignity of all the people involved through efforts to communicate, understand and meet needs.
4. Transparency – Create a spirit of openness through communication, constructive criticism, action, and disclosure of business practices.
5. Fair-trade– Fulfil all legal, economic, philanthropic and societal responsibilities to all stakeholders as well as giveback to the community and protect the ecological environment.
6. Innovation – allow for the people around you to apply better solutions that meet new requirements, unarticulated needs, or existing market needs using already available resources.
Waste management has become essential in our environment. More and more companies committing to respect the environment are taking key note of waste management through up cycling and recycling.
A brand well known to be forefront in upholding the core values of ethical production and waste recycling is Carmina Campus.
In 2006, Ilaria Venturini Fendi, the youngest daughter of Anna Fendi (who founded the well-known Italian fashion company FENDI) started her own upcycling accessories brand Carmina Campus at her beautiful farm in the near of Rome, Italy. its mantra is "save waste from waste". Carmina Campus sources industrial materials commonly considered as waste that in the hands of highly skilled Italian artisans acquire a daring new life as part of a design object.
Collaborating with private corporations, public institutions, ngos and individuals involved in development of ethical and sustainable projects. Partnerships have been established for co-branded projects with Campari, Mini-BMW and Vibram just to name few the brands, it's clearly notable that Carmina Cumpus is changing the face of what most companies know as waste products by turning them into functional items.
Kenya is not left behind in the fight for waste reduction. Taking a look at a Lamu island located in the North East of Kenya, just bordering Somalia, we see how some of the social cautious entrepreneurs are upcycling and recycling waste as an economic activity.
Few brands in the recycling and upcycling business in Kenya:
AliLamu was originally founded by the LOVE between Ali, a local fisherman looking for employment and Daniella, a swiss photographer visiting Kenya. Together they started creating bags and art from old sailcloth locally known as "tanga".
They use old and also new sail cloths to create beautiful bags and art. Fishermen bring them dhow sail cloths for a small fee and apart from that, they also travel all the way to other islands like Zanzibar and Pemba, and even Somalia so as collecting sail cloths for their production. They work with a small team in patterning, shaping and painting the bags.
The artisans paint thoughtful and uplifting messages on many of their products while promoting love, peace and care for the environment, slogans such as "Wake Up And Love.." "The Only Way to Save The World Is With My
Heart" and "Heart That Loves Never Gets Old" are best sellers of their hand painted products.
And with another group of about 30 women in Kashmir, Lamu, all the hand- stitching is carefully done, a boy manning three of their donkeys transports them back and forth. With so many people involved in the process, which is much more detailed, and they all get to supported through empowerment by the functioning of Ali Lamu.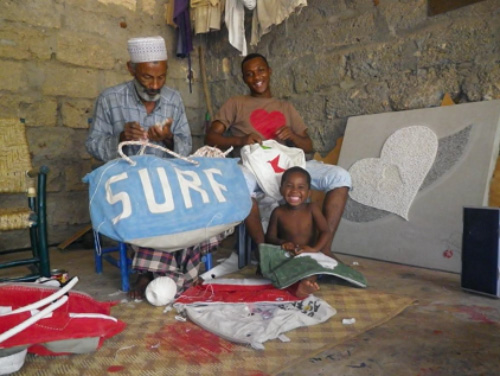 2. ART AND RECYCLED GALLERY
Founded by Isaiah and Maxwell, Old Town Art and Recycled Art Gallery housed in a centuries-old building, the watchman-turned-entrepreneur carves his way out of poverty using recycled wood from dhows, driftwood and broken boats to make furniture and beautiful home décor items.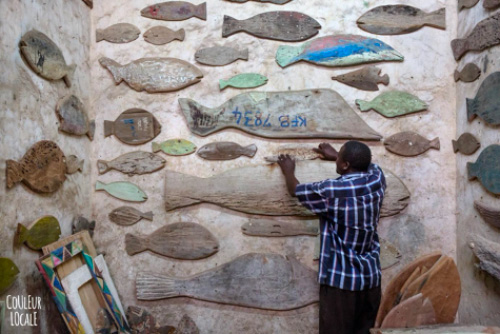 Image by Couleur Locale
3. SLIM THE SILVER SMITH
One of Lamu's famed silversmith – Slim – brings out a collection of silver rings set with shards of porcelain from old broken plates obtained when traders from the east sailed in with the monsoon winds trading porcelain and silks for spices, mangrove poles, ivory and other items. Crafting beautiful rings and neckpieces which are usually custom made and timeless.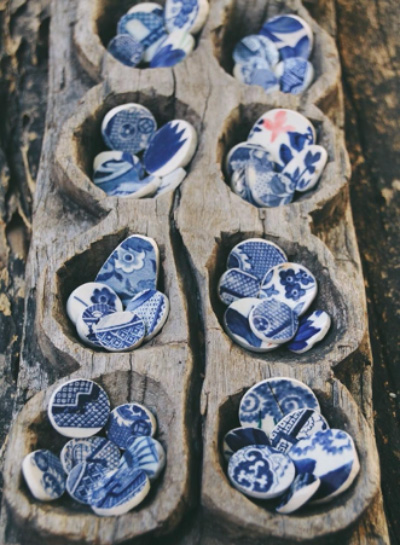 4. AFRICA ART
Abu a local artisan in Lamu is using rusted metal sheets from roofs to make beautiful Africa framed pictures. Humidity in Lamu causes a lot of corrosion of metal products, he uses these upcycled pieces as a platform of trade to make beautiful timeless products that enables one to take a piece of Lamu home with them.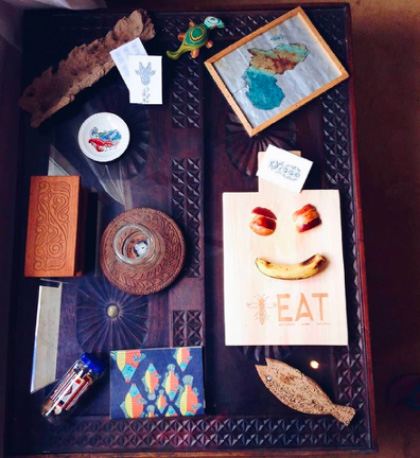 In another amazing project waste plastics mainly from Lamu's beaches, were used to construct the entire boat. The keel, ribs and structural elements are all made from recycled plastic including bottles and bags, whilst the hull and decking is covered completely by re-purposed flip-flops. Despite the unusual materials, the vessel was constructed by local craftsmen using traditional methods, and we were thrilled to see it set sail with Ali Skanda at the helm and the Tourism Minister and entourage enjoying the ride.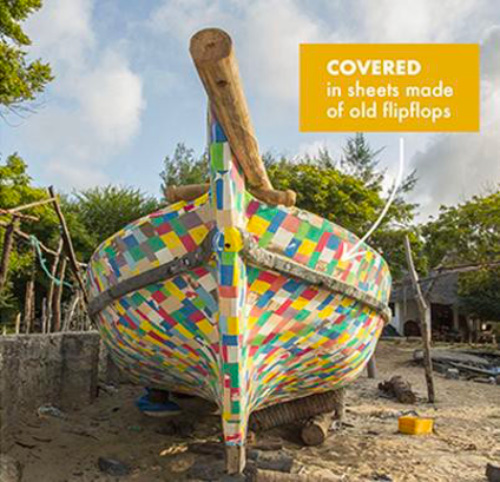 As the world continues to face an increase of waste products from the effects of human production, consumption and climate change, waste management is an essential need in our communities. Entrepreneurship is shifting from economic serving purposes and being even more driven by solutions to societal day to day problems faced by the society. Upcycling and recycling is taking forefront in waste management solutions while countering the inevitable effects of climate change in our society. This is the future by all means.